Keep in sync with your pet with Felcana

go
The Felcana Go activity monitor to keep cats and dogs at their best.
Buy now
Invented by vets. Engineered for pets.
A pet health and activity monitor that keeps pets fit and healthy. Felcana Go tracks pet movement with precision. Paired with our free-to-use Felcana app, it generates activity, rest pattern and calories burn insights.
monitor
Activity, calories and rest
Closely monitor your pet's activity – at home, in the garden and on-the-go. Review trends and spot unusual behaviours.
TRACK
Fitness and weight progress
Set personalised walk time and weight loss goals.
FOLLOW
Recovery after surgery or illness
Monitoring activity and sleeping habits to track rehabilitation.
Everyday healthcare monitoring
Invented by vets, Felcana Go is fast becoming the world's go-to pet health and activity monitor. Perfect for both cats and dogs – all breeds, all sizes – Felcana Go's features and award-winning design helps pets feel and look their best.
Waterproof
Integrated light
14-day battery life
Bluetooth 5.0
24/7 activity monitor
Benefits for your pets
Benefits for your pets
It is easy to underestimate walk times and overestimate meal sizes. And it's easy to miss unusual patterns in behaviour too.
Felcana Go tracks pet activity, keeping them in the best possible shape, regardless of age, weight, and breed.
Be the first to know when something isn't right.
Track your pet's daily activity routine
Monitor your pet's daily calorie consumption
Record thirst patterns
Ready to use Felcana go?
We will get you up and running in four simple steps.
1
Order your Felcana go
We offer free UK shipping and flat rate £5 worldwide shipping.
2
Download our app
While waiting for your Felcana go, download our free app and create a pet profile for your pet.
3
Attach the device
Felcana Go attaches easily to your pet's collar. Ready to go. No subscription needed.
4
Support
Felcana Go comes with global warranty and free in-app support. 30-day no quibble trial.
Felcana mobile app
Our technology is developed by Felcana's team of vets and data scientists to serve the needs of pets – and their owners. We gather robust data you can trust, and insights vets can apply to keep pets happy and healthy.

Our mobile app keeps you connected with your pet, so you can track their movements, wherever you are. Access pet health and activity insights straight from your phone.
What we track
The award-winning Felcana Go tracks and records your pet's daily routines. Felcana Go tells you what your pet can't.
Activity
Calories
Goals
Recovery
Sleep
Support
Your pets are in safe hands with you and Felcana
With Felcana Go, you will be the first to know if something in your pet's daily activity routine changes.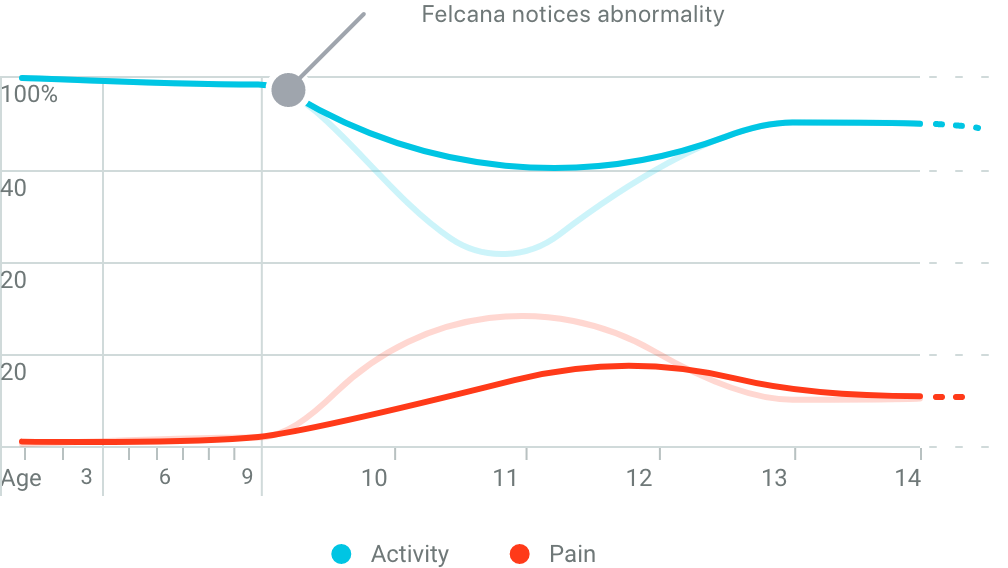 Joint disease
"Pets can't speak for themselves, and underlying health conditions can be hard to spot without the right information. Felcana Go generates clinical insights and activity trends that vets can refer to, to diagnose up to 90% of diseases in dogs and cats."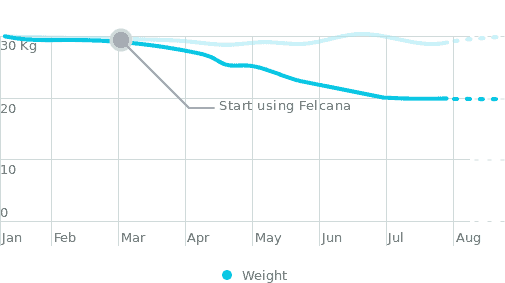 Weight
On average half of pets are overweight! This common problem can contribute to a whole range of diseases. Felcana Go not only helps owners with pet weight loss with its advanced weight tracker, it's also a great tool for keeping pets at their ideal weight, with daily personalised activity and calorie goals.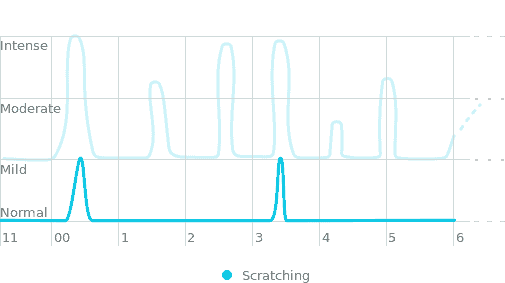 Skin disease
Is your pet itchy? Many pets can be uncomfortable and restless throughout the night when they have a skin condition, waking up to scratch or walk around. Periods of rest are shorter and sleep can be lower quality. Felcana Go can help you track the discomfort of your pet when they are itchy with its detailed 24 hour activity graphs.
Here's what our customers think
Founded by vets, Felcana Go is fast becoming the go-to pet health and activity monitor of choice for pet owners worldwide. Suitable for all breeds, its range of features and multi-award-winning design will help your pet look and feel their best.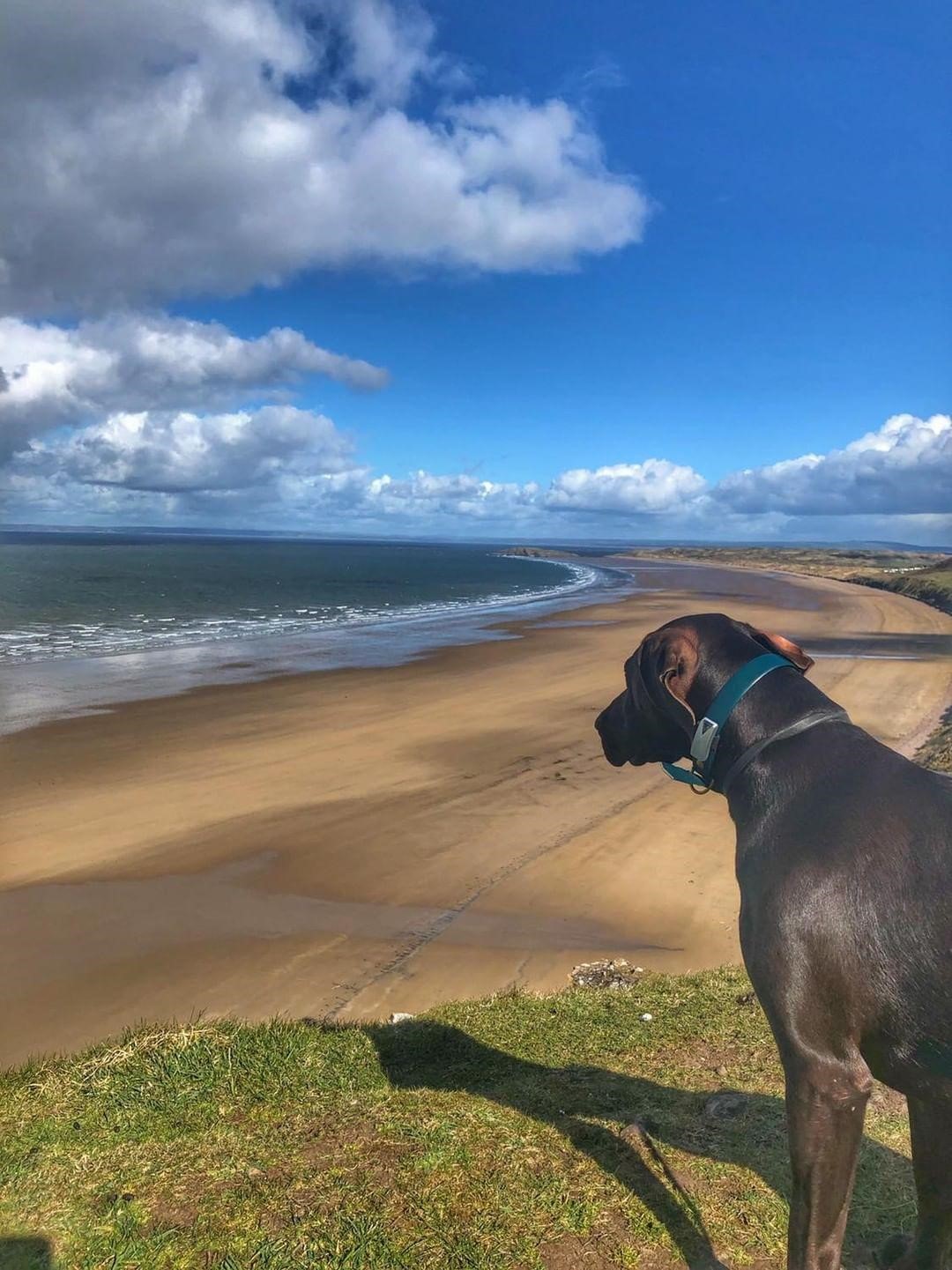 REVIEW
Sam and Ted
"Felcana Go is tough, and more than a match for Ted's exuberance and boudless energy. And when the night draw in, the light is very handly too."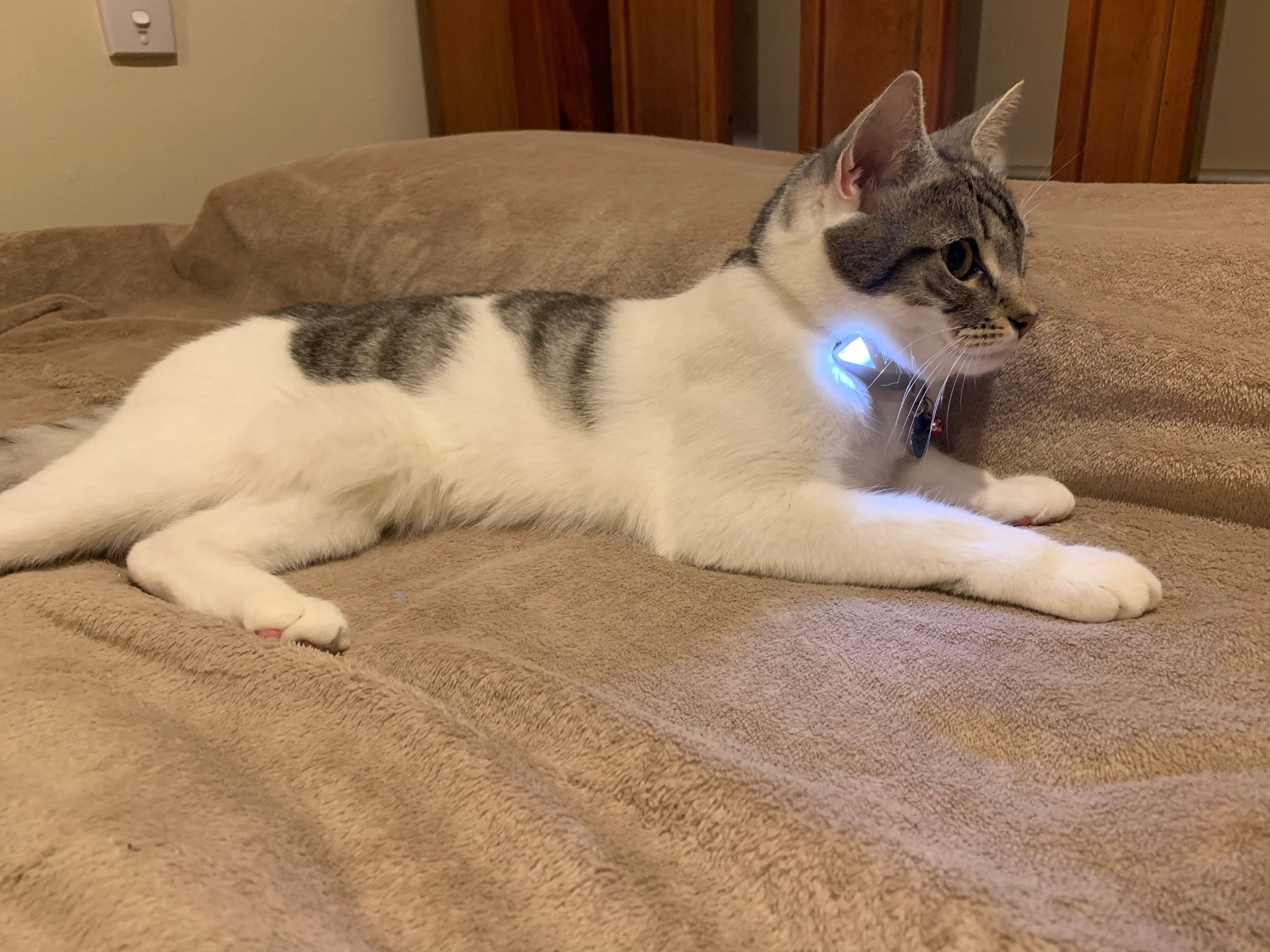 REVIEW
Jill and Tough
"Felcana Go looks good and is light enough for Tough to happily wear it! We did our research, and it gives us cat insights and health data that no other tracker does."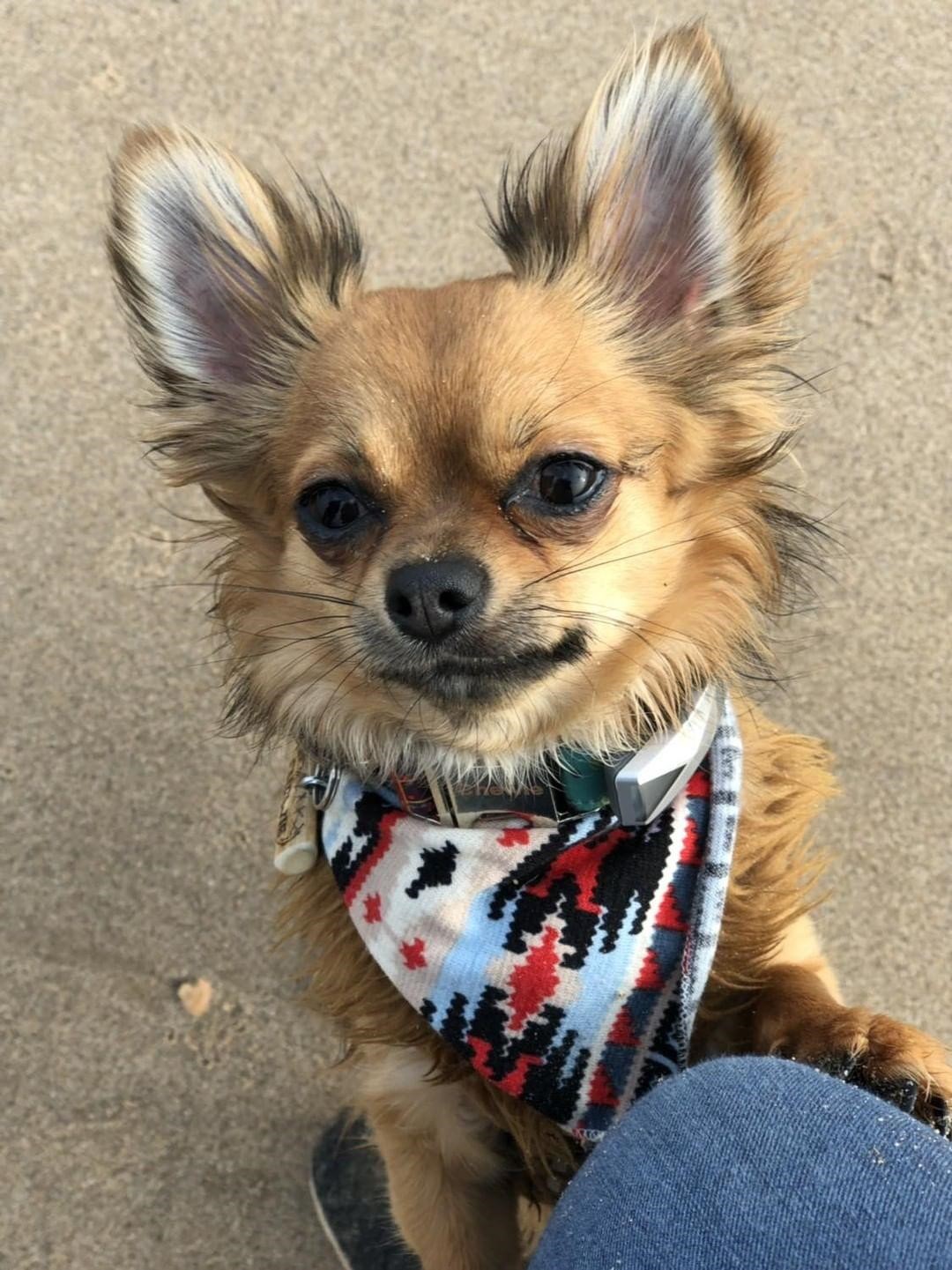 REVIEW
Mina and Chewie
"I've really enjoyed using Felcana Go. It's interesting to see how active Chewie is on a daily basis. It's a great way to keep tabs on his diet and exercise."